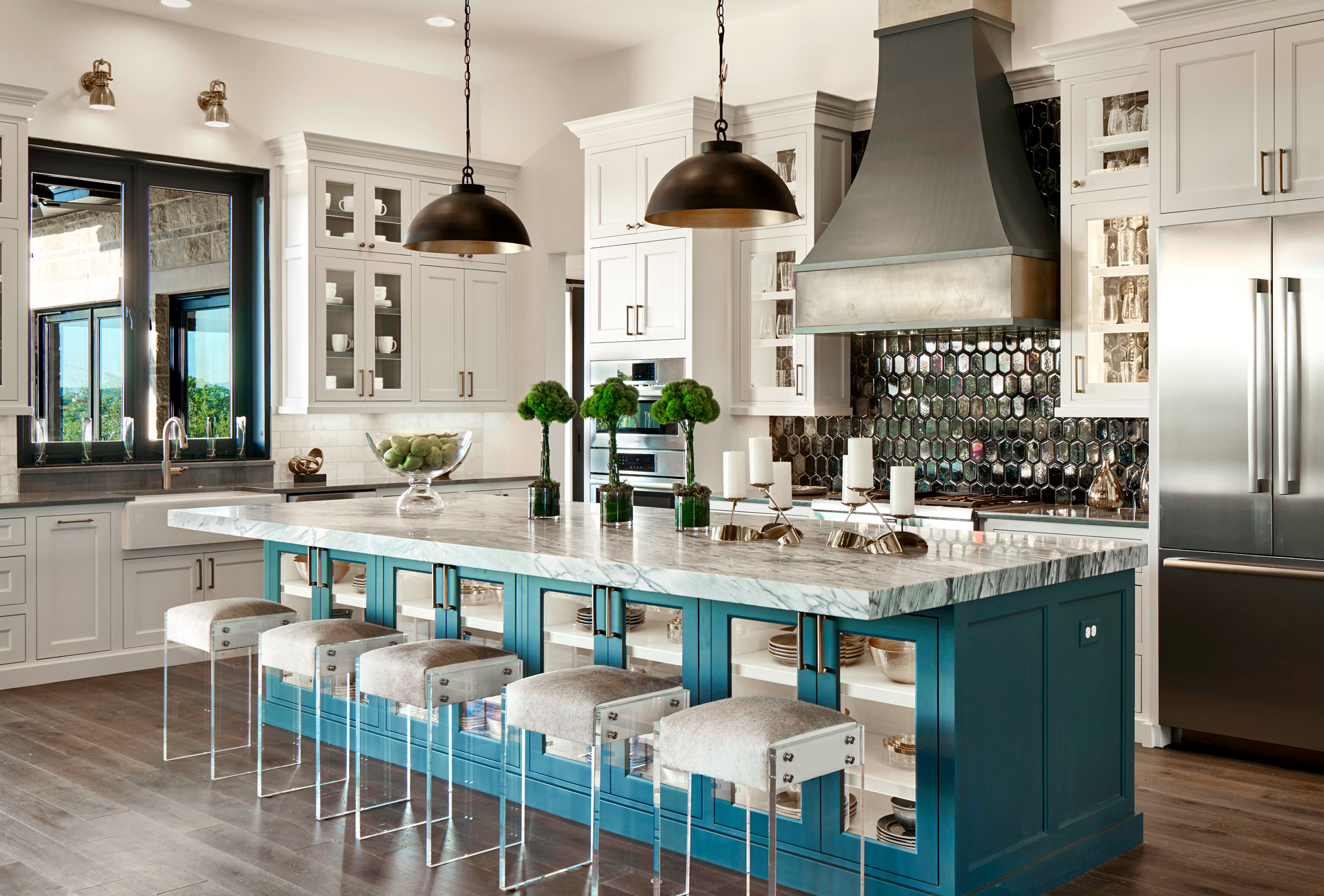 Delta Granite is the premier provider of stone countertop solutions in San Antonio and throughout South Texas. For over 30 years, Delta Granite has been the trusted expert, increasing the value and the beauty of our customer's homes and businesses by helping them discover the perfect stone solutions.
What sets us apart from other fabricators in San Antonio and South Texas is that we truly are a one-stop source. Our Delta Granite team guides each customer through every step of the project, from design consultation to materials selection, to custom fabrication & installation all under one roof.
We carry the largest inventory of granite, marble, and quartzite slabs of any fabricator and most slab yards in the San Antonio area. We specialize in custom countertop fabrication using natural stones and quartz countertops.
As active members of the Natural Stone Institute we adhere to the highest industry standards. We carry a consistent A+ rating with the Better Business Bureau.
Marble is a metamorphic rock that forms when limestone is subjected to the heat and pressure of metamorphism. It is composed primarily of the mineral calcite (CaCO3), otherwise known as calcium carbonate, and usually contains other minerals, such as clay, micas, quartz, pyrite, iron oxides, and graphite.
Dolomite is an anhydrous carbonate of calcium magnesium carbonate (CaMg(CO3)2). This class of stone is closely related to marble and limestone in its' constituency but has an added mineral to make it uniquely different, namely, Magnesium. While it is considered marble, the addition of the Magnesium in dolomite enhances scratch resistance, heat resistance and staining and etching resistance.
Quartzite is a non-foliated metamorphic rock composed almost entirely of quartz. It forms when a quartz-rich sandstone is altered by the heat, pressure, and chemical activity of metamorphism. Metamorphism recrystallizes the sand grains and the silica cement that binds them together. The result is a network of interlocking quartz grains of incredible strength.
Onyx is naturally formed from calcite in caves around the world when water drips and evaporates from the ends of stalagmites and stalactites. Once it evaporates, it leaves behind traces of minerals and calcium carbonate which causes its intricate bands of varying colors. The bands of color are produced with alternating silica minerals – quartz and morganite – and leave behind bands that lie parallel to one another.
Limestone is a sedimentary stone comprised mostly of decayed fish bones formed at the bottom of an ancient seabed. Over geologic time its Calcium Carbonate grains were compacted together enough to create the stone we know as limestone. Here as well, other mineral inclusions and binders give each limestone variety its unique coloration.
Our SlabSmith technology allows us to overlay the templates of your project on the slabs you select so that you can see exactly how your project pieces will look before they are cut to make sure you get the exact flow, colors, etc. in the areas that you want them.
Once we have this virtual layout the way you want it, this digital information flows seamlessly throughout the entire production process, thanks to our cutting edge technology.
Come visit our showroom where we would be happy to show you our SlabSmith technology, and how it helps us ensure your complete satisfaction.
Over the years we have had the pleasure of buying, fabricating and installing some of the most remarkable stone counters, floors, wall treatments and more. Here are some of the most memorable projects we have completed.
Dark Granite & Wood
Bill Edgel
2020-09-10T16:58:28-05:00
What Our Customers Say
Delta Granite and Marble, Inc. did our kitchen and butler's pantry and both jobs turned out wonderfully! They're a lovely company to work with, and they have the best selection of granite in all of San Antonio. They were very knowledgeable and organized, and the installers were definitely very good. Their customer service is excellent, and I really appreciated how well they communicated with us so I wouldn't hesitate to recommend them to others. Thank you, Delta Granite and Marble! Five stars!
Michele and I want to thank Delta Granite for their beautiful work on our Vetrazzo recycled glass counter tops just installed in our newly remodeled kitchen. Even though we had to wait for them to be made and delivered, the experience that Delta provided was one of professionalism and attention to detail. Elizabeth our salesperson was informative during every step of the process. I never had to worry about anything as Delta was always there to handle everything. We would like to thank all of the employees who provided us service including Elizabeth, Liz, France, Bessie, Troy, Larry and the very experienced installers who worked very hard to make sure every detail of our installation was perfectly and professionally provided. I worried about nothing, and the job was done beautifully and efficiently. Their production and installation professionals did a fantastic job. We love our new kitchen thanks to Delta.
Delta Granite and Marble, Inc. are so professional. They worked very meticulously to cut and place a very difficult piece of granite for me. They worked and worked on that piece until they got it absolutely right! The whole thing turned out perfectly wonderful! Very professional and the work ethic was beyond compare!
I hired Delta Granite and Marble, Inc. to do work on my bathroom and to install kitchen counters. I was definitely entirely pleased with their service, and I wouldn't hesitate to recommend them to others! They were very well-prepared and they have a very fair price. Everything was completed properly and on time, and there were never any problems, at all. Thank you, Delta Granite and Marble, Inc.! Great work!
Delta Granite and Marble installed counter tops in my kitchen and bathroom and they did a really professional job. They were very helpful and responsive to all my queries. They immediately gave me a pricing, complete with different options, so I had a clear idea right off the bat. I had checked with other places and hadn't received this. I thought that was very helpful for us. They came to our place and took pictures, and provided us with all the information and guidance we needed to make the decision. They were great during the decision-making period and the work itself was also great. They did excellent installation and cleaned up after themselves. They gave us all the information we needed for every day maintenance before they left. Overall, it was a great experience.
They came recommended to me by a relative, so I expected them to be a good reputable source for granite. However, I did not expect them to be outstandingly responsive to our remodeling schedule. From our first visit with Terry, our salesperson, to Troy's measuring to France's guidance through the process to Bessie's brilliance on helping us craft our pieces from a beautiful slab, to the two installation technicians, we experienced nothing but excellence in service and attention to detail. They are uncompromisingly efficient and caring. Our scheduling changes were honored by them with professionalism and concern. We heartily recommend them to our relatives and friends as well. Good job, Delta!